Effective pest control can prevent

roof damage caused by squirrels.

Tamper-resistant bait stations

are often used for effective

rodent pest control.
Columbus Pest Control provides inspections and services for animal removal and control.  Most nuisance animal control is performed by trapping and removal.  Occasionally we also will perform services to fix the damage and openings made by nuisance animals.

The typical nuisance animals that we deal with are: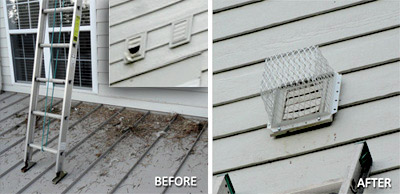 Often birds damage household vents in search of a warm and protected nesting site. Once inside a vent, these birds fill the duct with nest-building debris creating a blockage and must be removed to prevent fire hazards and unpleasant odors. Following a thorough clearing of the blockage, Columbus Pest Control will install a mesh screen over the vent as a preventive pest control solution.