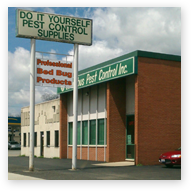 Parking in front,  just off Broad St.1510 West Broad Street Columbus, OH
Columbus Pest Control is committed to providing professional advice and products to anyone who wishes to manage their own pest control solutions. Our retail store, located at 1510 West Broad St. in Columbus, Oh, is always staffed with knowledgeable and experienced personnel to assist you. We provide insect identification services, solutions, and application methods that deliver the most effective pest control results.
Ants, spiders, cockroaches, bedbugs, and mice are the most common pests to manage as Do-It-Yourself projects. Our retail store staff will provide you with professional recommendations that will save you both time and money and eliminate your pests.
Identification of the Pest is Critical
The key to pest control is to properly identify the pest. The best way to do this is to bring in a sample of the pest for identification by our staff. For example, if you have an ant problem, we need to assess the actual species so we can help you efficiently. In central Ohio, there are 2-3 small ant species and treatment will vary depending on the actual species and location of the infestation.
We will also discuss the circumstances and conditions surrounding your pest problem so we can best determine what to recommend. Here are some of the questions we will ask:
Did you bring us a sample of the pest to identify? If not, what do you think the pest is?
How long has this pest problem existed?
How many pests do you see at a time?
During which part of the year is this problem at its worst?
Is there an area where these pests seem most concentrated such as in the kitchen, bathroom, mulch bed, etc?
What type of landscaping or environment surrounds your house?
What are the general condition of your yard and home?
Do you have large, mature trees in your yard?
Are there areas of considerable moisture in or near your property?
Choosing the Best Pest Control Products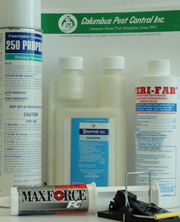 Pest Control Products sold in our retail store
Do-It-Yourself pest control provides an economical alternative to professional extermination services. Our retail store offers a wide variety of professional grade products including baits, traps, sprays, or pheromone traps. All of the products we sell and recommend are professional quality and are the same products that we use in performing your services. By using these products and recommended treatment methods, you should experience successful pest control results. Based on the conditions of the environment and your property, an exterior maintenance plan may also be recommended to manage the pest control results. Most pests are best controlled by applying a treatment around the exterior of the home or structure where the pests were found 2-3 times per year.
All of our products are labeled with safety precautions, directions for use and are registered with the Ohio Department of Agriculture and USEPA. Our Columbus Pest Control staff will provide counsel about using these pest control products properly in and around your home.