Columbus Pest Control was founded in 1946 when Joseph J. Mooney returned from WWII. Joe and his wife Mary were from Belmont County Ohio and came to Columbus to start their pest control business with talent gained during his military service. Shortly after starting Columbus Pest Control, Joe realized the benefits of joining both the National Pest Control Association and Ohio Pest Control Association. Joe served in many capacities in both organizations and the President of the Ohio Pest Control Association in 1958. During the early years of Columbus Pest Control, they serviced many areas of Ohio, primarily central and southeastern Ohio.
During his years of service to the National Pest Control Association, Joe met Orlando Alonso who had a pest control business in Havana, Cuba. The two became friends and business partners in various business ventures in Cuba. In January of 1961, the Alonso family fled Cuba due to communist rule and the fact that the United States broke Diplomatic Relations with Cuba. The Alonso's resided in New York City for 3 months before coming to Columbus where Orlando would begin a new life as a termite technician at Columbus Pest Control.
Over the years Joe Mooney and Orlando Alonso worked together to continue to build the business based on knowledge, excellent reputation, and service excellence. In 1969 upon Joe's death, Orlando became General Manager of the company and in 1971 he purchased Columbus Pest Control from Joe's Widow (Mary)
Based on Joe's experience and guidance, Orlando became involved with the Ohio Pest Control Association and served in many capacities including as President in 1976. One very important aspect of Orlando's involvement was working on what became The Ohio Pesticide Law that is still in effect today as the regulation of the pesticide application industry in Ohio.
Orlando's son, Lonnie Alonso, had been involved in the Columbus Pest Control business from the time he was a youngster. After Lonnie received his license as a Commercial Applicator from the Ohio Department of Agriculture, he worked alongside his father for many years.
Today, Lonnie and his two sons Brian and Andrew and their staff work together in this third-generation family-owned business. They are dedicated to providing effective and ethical pest control results to both residential and commercial customers that they have serviced for many years. All Technicians are trained, Licensed and capable of serving residential and commercial pest control needs.
Columbus Pest Control has been a member of the Better Business Bureau since 1958 and has received an A+ rating of excellence. Lonnie has supported and served on the Board of  Trustees of the Central Ohio Better Business Bureau for 25 years.
All staff members at Columbus Pest Control are full-time employees so there is no use of seasonal or part-time staff.  They pride themselves in only sending out the best, most knowledgeable and experienced pest control specialists.  With Columbus Pest Control, there are no sales people or commissions involved. You can be confident that Columbus Pest Control is dedicated to solving your specific pest control situation besed on assessment of the actual pest issues.
Columbus Pest Control supports the community in these and other community organizations and projects:  Ohio Special Olympics, Ohio English Setter Rescue Organization,  Pilot Dogs, Boy  Scouts of America – Simon Kenton Council and Honor Flight.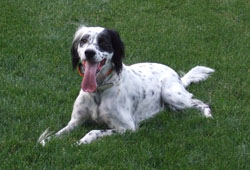 The Alonso family has rescued, fostered and adopted out over 25 dogs to their forever homes, primarily English Setters.