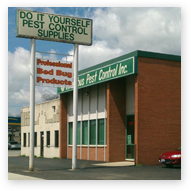 Easy parking in front of store
Located at 1510 West Broad Street in Columbus, OH, the Columbus Pest Control retail store is always staffed with knowledgeable pest control specialists. We are available to discuss your specific situation, to examine and identify your insect samples, and to recommend effective products and easy-to-follow techniques for the best pest control solution.
We are also available for a home or business site evaluation and estimate. Call for an appointment today.
1510 West Broad Street
Columbus, OH 43222

614.279.1587 or 800.255.1587

Hours of Operation
Mon – Fri – 9:00 am – 5:00 pm
Sat – 9:00 am – 1:00 pm