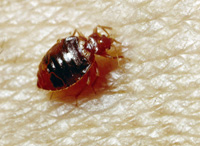 Bedbugs are concentrated in areas where people are resting.  They are typically found in beds (mainly the box spring) and bedrooms, recliners, upholstered chairs and sofas.  Because bedbugs feed on blood, you may see evidence of blood on your mattress as well as visible bites on your body.  Bedbug elimination requires diligent action from the homeowner to perform tasks such as vacuuming, laundering of bedding & clothing, and reducing the clutter in which bed bugs can hide. Particular attention must include a thorough inspection of backpacks, computer bags, purses, etc in which bed bugs can be moved from one location to another.
It is important to NOT discard infested furniture at least until it is treated and an infestation is controlled. When you move infested furniture, a few bad things can happen. As you are moving it, bed bugs can fall off and then end up in new places and without their normal place to go back to (bed bugs can detect the place that they are familiar with by their smell – pheromone) those bed bugs can now infest other areas of the house.
Columbus Pest Control offers professional, in-home bed bug control treatment.  Chemical pesticides are the most effective treatment for bedbug control. Generally, it will take from 3-5 treatments to eliminate bedbugs with treatments being performed at two-week intervals.
Homeowners or tenants will need to participate with a thorough cleaning, removal of clutter and laundering bedding and clothes. To protect the house from re-infestation, the customers will need to try to determine where they got the bed bugs from to begin with in hopes that that aspect is resolved and/or eliminated, and be very cautious with anything that you bring into the home such as used furniture, visitors, especially those that come and stay for extended periods of time, students returning from college and overall anything or anyone that you might suspect of possibly having bed bugs.
Call Columbus Pest Control to discuss your bed bug situation and to develop a treatment plan.

  Preparation for Bed Bug Pest Control Services

  Preparacion Recomendada Para el Tratamiento de Chiches